Rik Rue cassette archive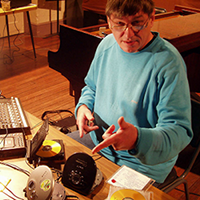 Photo: Shannon O'Neill
For composer/audio collagist Rik Rue, environmental sounds have always provided abstract and subconscious pleasure and an inner understanding of the physical. Since the early 1980's, he has been involved in composing with environmental and found sounds. Utilising analogue and digital technology in a variety of recording techniques through a wide range of natural settings from bushland to urban areas, he transforms these recordings into soundscapes that have eventuated into radiophonic works, sound installation compositions and live performances. Rik Rue has also used 'live tape' and digital manipulations in various performance projects with Jon Rose, Mind/Body/Split, Social Interiors (with Shane Fahey) and as a member of the contemporary Australian music group, Machine For Making Sense, using sampling and the recording medium itself as an instrument.
Read this article about Rue and his work by Jon Rose.
Rue released numerous cassettes on his Pedestrian Tapes label throughout the 1980s and 1990s, now mostly unavailable. Shame File Music presents here online reissues of some of Rue's cassettes, complete with cover art and remastered by Rue's longtime collaborator Shane Fahey, all for free download/streaming.
sham086 Rik Rue & Shane Fahey - Murmurs (Pedestrian Tapes, 1986)
sham087 Rik Rue - The Pre Glasnost Tapes (Pedestrian Tapes, 1991)
sham098 Rik Rue - A Raise of an Eyebrow (Pedestrian Tapes, 1983)
sham102 Rik Rue - Dub for St. Rita (Pedestrian Tapes, 1984)
The recordings on this cassette were sourced from field recordings made along the New South Wales coast, including rainforests, hinterlands, coastal bays and creek beds. Murmurs was the second collaborative release between Rue and Fahey, who had combined previously under the moniker of Social Interiors (self-titled cassette released on Rue's Pedestrian Tapes, 1985); although Murmurs was not specifically credited to Social Interiors, Fahey very much thinks of it as a Social Interiors release.
Rue and Fahey made the field recordings that were used on this cassette both individually and collaboratively. "Two Short Adventures in Water" is Rue's work alone (which was also released on a cassette of the same name in 1986), whilst the other tracks are collaborative efforts with Fahey. This was the pair's first concerted effort to create audio collages from environmental recordings.
Remastered by Shane Fahey, 2014
Improvisations for Russian flexi-discs (1960-80 vintage)
Two turntables and tape manipulations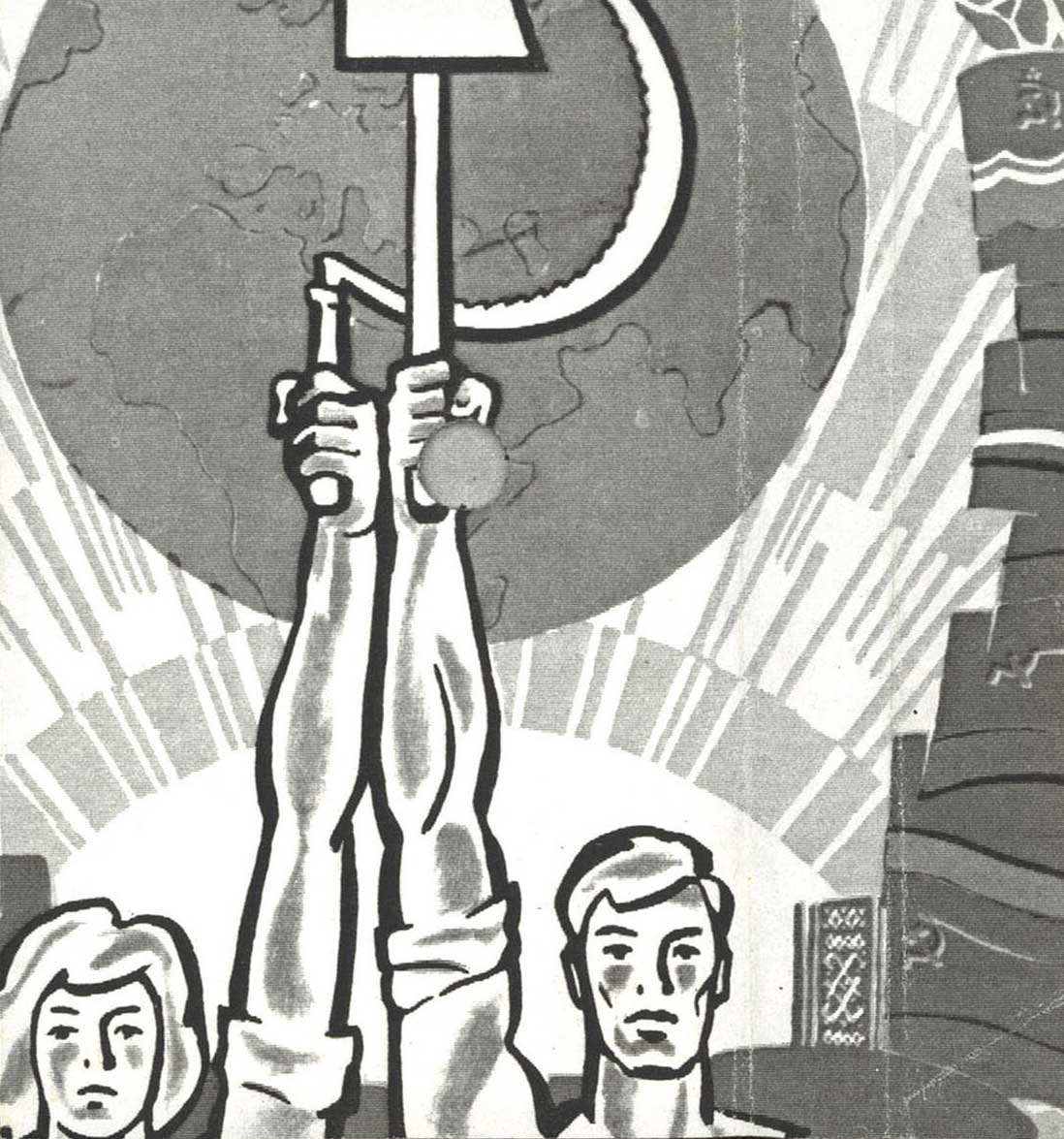 Alternative cover for 'The Pre Glasnost Tapes' from Pedestrian Tapes edition
Whilst visiting a shop in Melbourne specialising in Russian paraphrenalia, Rue came across a book of Soviet-era flexidiscs, containing Soviet propaganda recordings (Western music was hard to come by in the post WWII Soviet Union, although bootlegs flexidiscs of jazz and rock music pressed onto discarded medical x-rays, colloquially known 'ribs' or 'bones', were sort-after on the black market from the late 1940s to the 1960s). Rue used these flexidiscs as source material for 'The Pre Glasnost Tapes'. Rue overlayed and juxtaposed patriotic workers songs with orchestral music, spoken Russian and natural sounds, altering pitch and timbre by adjusting record speed.
Originally released on Rue's Pedestrian Tapes in 1991, 'The Pre Glasnost Tapes' has been reissued on several different occasions (on tape and CDR) with different covers; the one used here Rue views as the definitive cover.
Remastered by Shane Fahey, 2014

<Rik Rue - A Raise of an Eyebrow 1983

Purchase on CDR:

Rik Rue - Dub for St. Rita (1984)

Purchase on CDR:

'Recorded & paused in stereo with the aid of a portastudio & index finger. Jan 84'.
Rik Rue recalls being a collector of "so-called religious pictures", and one day in a religious shop finding one of little-known Saint Rita; the patron saint of impossible causes.. "She intrigued me because of her nature, a little known and unusual saint from what I could find out about her, so I thought I'd give her this track and tape."
The 1984 tape featured the original colour card on each cover, reproduced here and in full colour on the on-demand CDR.

* Jon Rose, Rik Rue, Louis Burdett Towards a Relative Music LP (Fringe Benefit Records, 1979)
* Rik Rue A Raise of an Eyebrow cassette (Pedestrian Tapes, 1983)
* Rik Rue Dub for St.Rita cassette (Pedestrian Tapes, 1984)
* Rik Rue Other Voices cassette (Pedestrian Tapes, 1984)
* Eugene Chadbourne, Jon Rose, David Moss, Rik Rue Country Music of Southeastern Australia LP (RRRecords, 1984)
* Rik Rue Multisonous Mottos cassette (Pedestrian Tapes, 1985)
* Social Interiors (with Shane Fahey) Self-titled cassette (Pedestrian Tapes, 1985)
* Rik Rue Water Works cassette (NMA Publications, 1985)
* Rik Rue & Shane Fahey Murmurs cassette (Pedestrian Tapes, 1986)
* Rik Rue Two Short Adventures in Water cassette (no label, 1986)
* Rik Rue Bend An Ear cassette (Pedestrian Tapes/STI/Ballets Mecaniques, 1987)
* Social Interiors (with Shane Fahey) Intrusions into the Environment cassette (Pedestrian Tapes, 1987)
* Rik Rue Heavy Handed CDR (Cosmic Conspiracy Productions, 1990)
* Rik Rue A Shift in Magnetic North cassette (Pedestrian Tapes, 1990)
* Rik Rue Onomatopoeia cassette (Pedestrian Tapes, 1991)
* Rik Rue The Pre Glasnost Tapes cassette (Pedestrian Tapes, 1991)
* Rik Rue Sound Escapes LP (RRRecords, 1991)
* Rik Rue Songs for the End of Time cassette (Pedestrian Tapes, 1993)
* Rik Rue Voice Capades cassette (Pedestrian Tapes, 1993 - reissued on CDR and online by Alias Frequences, 2004)
* Rik Rue Ocean Flows CD (Tall Poppies, 1993)
* Social Interiors (with Shane Fahey and Julian Knowles) The World Behind You CD (Extreme, 1995)
* David Watson, Jim Denley, Rik Rue, Amanda Stewart, Ikue Mori Bit-Part Actor CD (Braille Records, 1996)
* Tony Buck & Rik Rue Come Let's Build Ourselves A City mini CD (Algen, 1996)
* Social Interiors (with Shane Fahey and Julian Knowles) Traces of Mercury CD (Extreme, 1997)
* Rik Rue Sample/Shuffle/Interplay CD (Extreme, 1999)
* Rik Rue Recent and Not So Recent Collage Works CD (no label, 2004)
* Social Interiors (with Shane Fahey and Julian Knowles) Spatial Circumference CD (Endgame, 2006)